RADIOETERIC 1.0 WEB VERSION - Radionic software
Free Online Therapeutic Program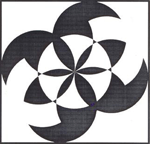 With this easy and brilliant computerized radionic system RADIOETERIC© it's possible through your PC, to use it for any radionic emission at distance and in presence for any object for a vibrating action, therapy etc.
Following the explanation for use:
1. Introduce up in the large window at the left the sentence of the radionic action wanted in this format (all in CAPITAL LETTERS and all after each other), for exemple:
For the action: "Jhon Smith recovers from his liver ache", write:
JHONSMITHRECOVERSFROMHISLIVERACHE
…or: JHONSMITHPASSESHISEXAMCHEMISTRY
…or: JHONSMITHGETSWORK etc.
Your proposal has to be the short as possible, direct, affermative, positiv, in the present, mentioning always at the beginning of the sentence the name and last name of the person who has to receive it.
2. Put the picture of the subject that will receive the treatment in the window at the right and at half screenshot click on PICTURE (foto)
3. Introduce in capital letters in the windows above and at the right name, last name, date and place (hour) of birth and adress of residence of the subject who will receive the therapy.
4. Introduce by clicking in (oggetto) OBJECT 1 and OBJECT 2 the pictue of the universal symbols OM and SEAL OF SALOMONE, that will act as radionic catalysts of your action to generate together with the obtained rate and to amplify your proposal always written like in point 1, so capture the 2 symbols at the bottom of this webpage.
5. So to activate the radionic action, click on 'START TREATMENT'
N.B.: by RED SENSORS it's possible to make this treatment with present persons too, in this case the interested subject must stay in contact with the red blinking circle for the whole period of treatment with his hand; .time of treatment: 1-3 houres; disactivate the screensavers because the circuit emits energy only when it remains visible on your screen

OM SYMBOL


SALOMON SYMBOL


Click on the Simbols for Download
Radioeteric - Radionic software © Antonio Langone - Ruggero Moretto - Massimo Poiatti